---
Why Screen Size Matters for Doing Behavioural Research Online
23 Aug 2014
Using recent sample UK online panellists (N=3810), we analyse the most popular screen sizes and discuss possible impact of screen sizes on designing and conducting online behavioural research
There is a number of elements that needs to be considered for building experimental protocols and successfully conducting behavioural experiments online. Some of those elements may have impact on the internal validity of your research studies and possibly reduce noise in data.
Undoubtedly, there are key elements of experimental protocol such as participation fees, randomization, length of the study, stratifications or choice of online panel provider etc. However, some of elements may be hidden though their importance should not be underestimated. One of those elements is a screen resolution of participant's PC, laptops, tablets and other devices on which experiment is going be completed. Knowing screen sizes may help to improve internal validity of the experiments and get stronger effects.
Screen resolution defines how much actual space if visible to participants on the screen. Image below demonstrates the difference on how many elements of the same size (like images or lists of questions) fit to 2 screens with different screen resolutions. We are not talking about really small screen resolutions that are used on older computers. Here we show the difference for 2 of the top 5 most popular screen resolutions.
Figure 1. Screen Resolution and Look of an Experimental Page
One of the important implications of the difference in the screen size is the time needed for completing experimental page (text) and the way the information on the page is processed by your participants.
It has been already demonstrated that the time needed to complete reading or answering page increases when there are less words visible (Creed, Dennis, & Newstead, 1988; de Bruijn, de Mul, & van Oostendorp, 1992; Reisel & Shneiderman, 1987) and processing of text is enhanced on large screens (de Bruijn, de Mul, & van Oostendorp, 1992; Dillon, Richardson, & McKnight, 1990)
Lower screen resolution requires more time to read
Finally, knowing screen resolution of the participants of your online panel may assist you in adapting the design of the study and potentially improving internal validity by understanding what exactly participants of your experiment will see on their screens.
Since information about screen resolutions of participants of online panels is not readily available (I would not be surprised if it is not recorded in general), we have decided to share some insights on what screens people in UK use for completing online experiments and surveys for 2 different panel providers in United Kingdom. The data comes from the online study completed in the Summer 2014 in UK (N=3810)
The majority of the UK online panellists have 1366 wide by 766 pixel height screen resolutions (see Figure 2). One of the possible explanation is that Microsoft Windows 8 is optimized for exactly this resolution. Figure 4 demonstrates the fact that Google Chrome is the most preferred Internet Browser for participants of our experiment, however the number of Chrome users is not that far from Internet Explorer users. Firefox is holding 3rd place.
Figure 2. Mapping of the Most Popular Screen Resolutions Among UK Online Panel Participants (Darker – more popular)
Figure 3. Most Popular Screen Resolutions Among UK Online Panel Participants, Share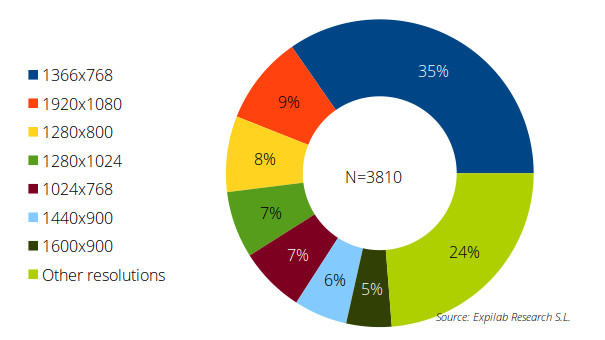 Figure 4. Most Popular Internet Browsers Among UK Online Panel Participants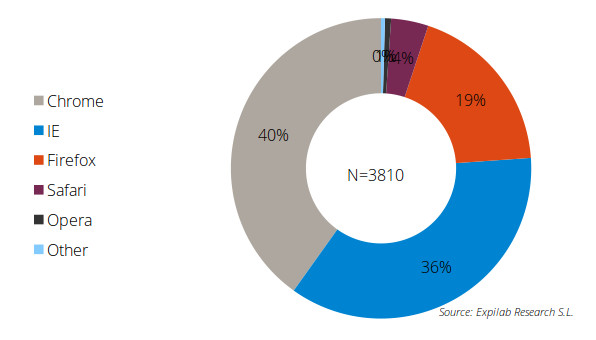 Our data is comparable with global stats that are collected by W3School (From Wikipedia: W3Schools is a web developer information website, with tutorials and references relating to web development topics such as HTML, CSS, JavaScript, PHP, SQL, and Jquery) about dominant screen resolution of general global population.
Knowing screen resolution and adapting layout of experimental page accordingly is important. However, browser window is another important aspect to keep under control in the experiment. Some (including myself) simply do not keep windows of different programs including Internet browsers maximized to the full width and height of desktop. Instead, browser's windows occupy just a fraction of the desktop space. Figure 5 below demonstrates the impact of reduced browser window on the layout of the experimental page with images and questions.
Figure 5. Internet Browsers Open at 100%, 75% and 50% Width of Desktop on the Most Popular 1366×768 Screen

The key message is quite simple. If you plan to conduct an experiment or behavioural study using online panel, it is it worth adjusting the design of your experimental pages and questionnaires to the currently dominant 1366×768 screen resolution for both Windows and Mac computers.
Moreover, for all the studies that our team runs, we recommend not only adjusting design of the experimental pages to dominant screen resolutions, but also enforce minimal width of the Internet browser window to have more comparable experience of participants of online panel.
Need any advice and recommendations from our technical team – just get in touch with us (here) and we will be happy to answer your questions on how to make these screen resolution checks and browser adjustments for your experiments.
---
14 Sep 2015